when people who share similar passions and interests meet, energy arises. this was the case at the deutscher werkbundtag 2017, which started on 14th july in nuremberg.
the public event "experiment: sculpture kit" by and with franz betz enlivened the lorenzer platz this weekend. along the saying "doing instead of talking", the participants noted down their questions and answers on the topic "creative education 2050" on the components of the team sculpture. this resulted in intensive and exciting discussions with the students of the werkbund workshop in nuremberg, participants of the werkbund day and interested visitors.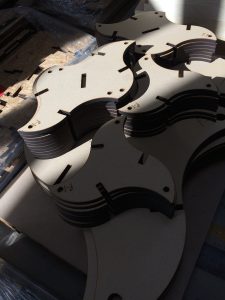 the form specialist ackermann gmbhensured the perfect fit of the sculpture components. the material of the components also supported the visionary and future-oriented approach: tricoya is the name of the outer material, which was generously provided by the wood specialist roggemann. the waterproof MDF board should last 50 years! in 2050, the team sculpture could be used for a retrospective event without any problems.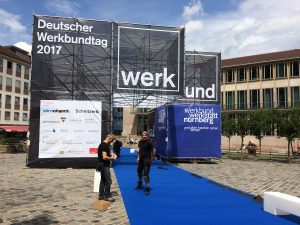 at the weekend there were also explosive lectures and intensive (podium) discussions, which provided new impulses. the great organisation of the werkbund bayerns made an exciting and interesting weekend possible, thank you very much!
by the way, the team sculpture was taken over by the private primary and secondary school liebfrauenhaus  in herzogenaurach after the werkbundtag and will continue to be used there in the form of a "pilot school".